Day 2: Sabtang Island
Sabtang is the southernmost inhabited island municipality of Batanes. I personally recommend not missing the opportunity of going here when in Batanes (I doubt you'd even, but just in case), for this island boasts most of the best landscapes in the group of islands.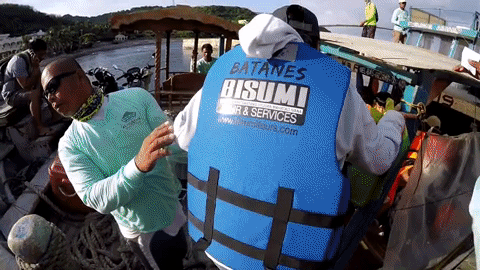 We traveled here via Faluwa (main mode of transportation to and from Islands) from Ivana Port, and mind you, this boat doesn't have balance beams! but don't worry, they are huge and the boat crew are all professionals. This sea vessel is used to transport people, goods, vehicles, even cows! Mom, afraid of the sun much? haha
Jeepney fare from Basco to Ivana Port is ₱27/pax (~$0.50), while the Faluwa to Sabtang costs ₱100 (~$1.87). If you wish to ride a tricycle to Ivana port, it will cost you ₱120/pax (~$2.20).
Take note that you/your group will have to pay the Mandatory ₱200 (~$3.75) Tourism Fee upon arrival in Sabtang Island.
But if are to avail of a tour package from Bisumi, you don't have to worry about these individual expenses. Comfort + Convenience!
– Sabtang Lighthouse –
Sabtang Lighthouse is one of the three major lighthouses in Batanes group of Islands. The house beside the lighthouse has rooms you can actually rent if you'll stay overnight on the island. Though one thing that confused me is that the property is barricaded, I was told that the lighthouse is owned by the government. Now, how or why would a lighthouse be built in a land that's privately owned? I never got the answer to this question.
– Savidug Stone Houses –
How cool are these houses? Made of stone, sometimes corals, limestone, rubble, wood, with Cogon Grass (usually 30cm thick thatched to the roof) This kind of grass is found throughout Southeast Asia, and if used as roof of a house, it will last up to 40 years – very sturdy against strong wind, heavy rain, and extreme heat.
If you have seen Yeng Constantino's Music Video – IKAW, you know that most parts of it are shot in Batanes. And the house above (unoccupied) is the most popular location. To see this music video, click here.
– Chavayan Stone Houses –
Just like Brgy. Savidug, Brgy. Chavayan also has stone houses that are worth visiting. In our case, my Mom opted to stay in the van because it was already too sunny. But that didn't stop me from taking souvenir photos wearing traditional Ivatan all-weather vest and headgear.
In this photo, you'll see some elements that make Batanes, Batanes: landscapes, dried flying fish, vast ocean, traditional Ivatan all-weather gear, pollution-free skies/surroundings, add to that the Sabtang famous "kissing rock".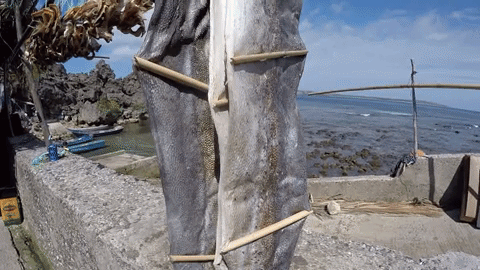 Above you see two of many (not three lol) main products and dishes of Batanes: Arayu and Dibang. Arayu is their local term for Dorado – Spanish Name or mahi mahi – Hawaiian name, a migratory fish found in tropical to subtropical waters worldwide. Dibang is their local term for Flying Fish, also found in the same water conditions as Dorado. Above you see them dried and tied up so they can be sold.
– Sabtang Weavers Association –
Chavayan is also home to Sabtang Weavers Association, a small hut where Ivatan women showcase their crafts in weaving vests and other items that are sold to guests who pass by. Though we arrived at the wrong time and didn't meet any Ivatan women, but fortunately, our tour guide Arbin was knowledgeable of the crafts and gave us a 101 to weaving Ivatan all-weather gear.
– Sta. Rosa de Lima Chapel –
This chapel is significant in Sabtang, and all of Batanes because it's the only remaining chapel in the group of islands that still use cogon roofing. Very unique, and at the same time traditionally relevant.
– Chamantad- Tinyan Viewpoint –
If North Batan has Vayang Rolling Hills, Sabtang has Chamantad-Tinyan Viewpoint. This place is also a favorite among photographers, videographers, and even prenuptial shoots. You can even rent vakul and kanayi for only ₱20 (~$0.38) and bring it anywhere within the viewpoint for more creative and "pa effect" photos.
The photo you see above was featured in Cebu Pacific's In-flight Magazine – Smile Mag!(page 103). I also have a full-page spread on Village Pipol Magazine (page 4) for my 2017 Batanes adventure!
It's very easy to find out why. Just look at the amazing limestone formation and landscapes – your eyes will never get tired of appreciating. Everywhere was picture perfect, I can guarantee that!
This is your playground. It may get too hot during summer (April-May) and that's exactly what we've experienced. Still, it did not stop me from exploring the whole location, something I didn't do the first time I went to Batanes ( because I thought the views are the same, but it turns out, they're different!). Take your time and be careful when taking photos near the edges/cliffs, the wind here is very strong, you'll need to hold on to your belongings if they are a little light.
– Morong Beach, Ahaw Arch Formation, and Nakabuang Cave –
Morong Beach is one of many beaches in Sabtang where you can swim – just make sure to practice LNT (Leave No Trace). There's also a restaurant serving lunch for those who are on tour, though ours was on a different location. Not too far from the arch is the naturally formed Nakabuang Cave.
Did you know?

The Batanes archipelago has 9 volcanoes, two of which are considered active or have shown evidence of eruption within the past few thousands of years.
– Savidug Idjang –
Just like in Basco, Sabtang also has its own Idlang – or a stone fortress used against invaders or attackers in the early times. Occupants of the Idjang use huge stones and throw them at the enemy when sighted.
We went on top of the Idjang – the entrance and path were sort of hidden, and going up presented a little challenge. The images that followed above will show what you'll expect to see. Widespread of cogon grass and pillars that were once part of Ivatan's pre-hispanic houses.
1 Love, 1 Sabtang! (Theme of the last installment of the Vakul-Kanayi Festival held every 25-27 April) – you'll find this sign just a few meters away from Sabtang Port, perfect for the start of tour or end of tour photos =)
– Paypanapanayan Pension House –
We stayed at Paypanapanayan Pension House in Sabtang, where the Sabtang Lighthouse is just a stone throw away. This place is perfect for those seeking to capture star trails or milky way by the lighthouse.
Hayahay ang buhay!